VK QRP Club
CW Operators' QRP Club Inc.
QRP ARCI - Hall of Fame
Our very own, Kevin Zietz VK5AKZ #43 has been exalted to the QRP ARCI(QRP Amateur Radio Club International) Hall of Fame for 2012.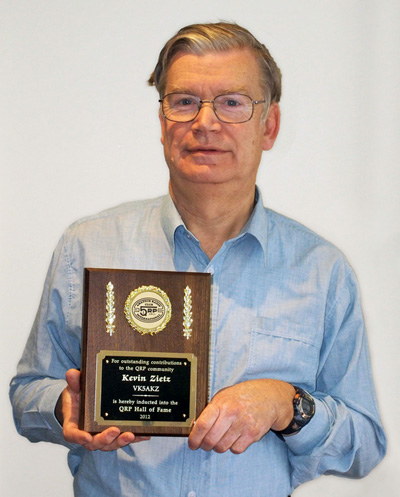 Club Treasurer and Membership Secretary Kevin Zietz VK5AKZ has been given due recognition for his service to Amateur Radio and QRP, specifically the CW Operators' QRP Club Inc.. The award, The QRP Hall of Fame - for services to QRP, was made at the recent Dayton convention when the "Four Days in May" are celebrated. This is held in conjunction with Dayton each year. The QRP ARCI group organises the award.
Kevin VK5AKZ #43, joined the club on 14th March, 1984 and was welcomed in the first issue of Lo-Key dated that month. The earliest Club member was the founder, Len O'Donnell VK5ZF #1 (SK) recorded on 7th December, 1983.
In the March 1997 issue of Lo-Key it was announced that earlier in the year Kevin, then Secretary and Public Officer, had been made the first Life Member of the Club. He was also, by then, the longest continuously serving Committee Member. He had previously been Treasurer, Secretary and Assistant Editor of Lo-Key. Although extremely busy with his family and professional life, Kevin was noted for his dedicated and energetic service to the Club.
Congratulations Kevin!!
The complete QRP ARCI Hall of Fame information can be viewed here.